Historic Living in Narragansett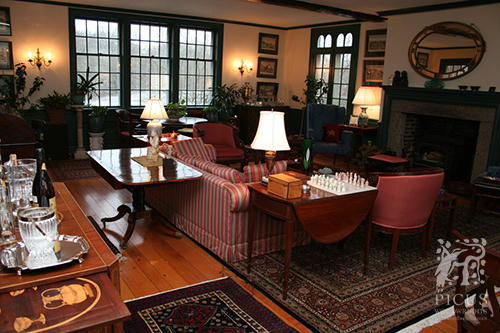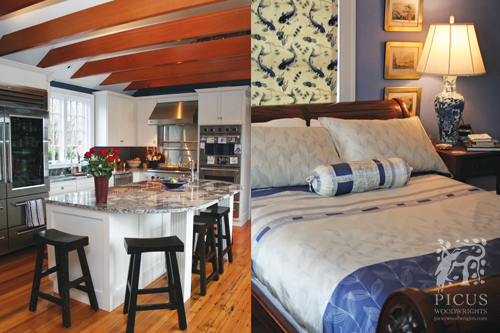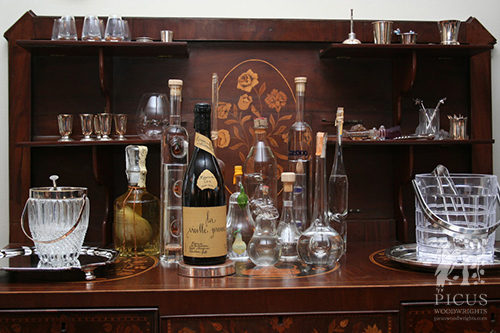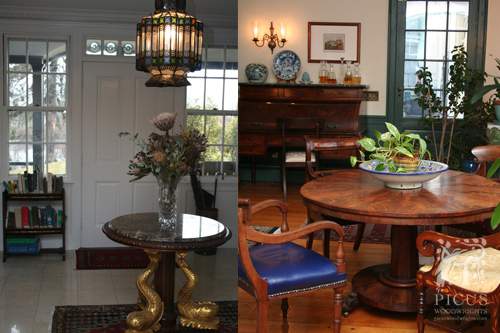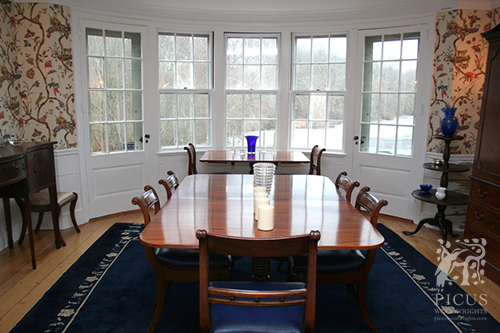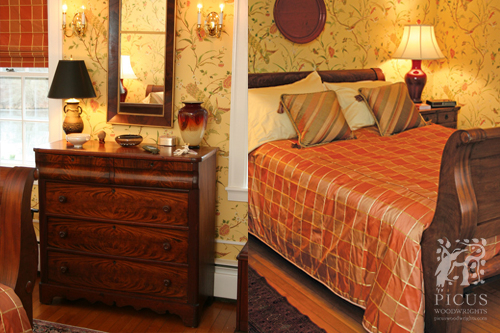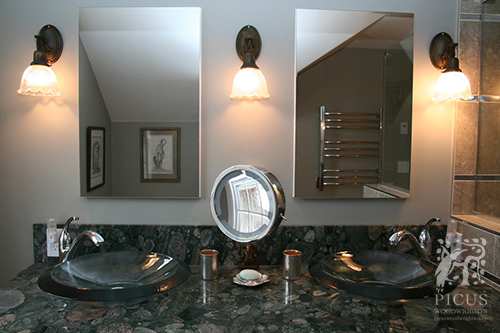 GRACE LENTINI
A historical farmhouse is transformed into a modern home in Narragansett
Andrea E. McHugh
Posted January 27, 2014
"We're long term Rhode Islanders," declares Lynn McKinney. So when he and his husband Ron Margolin first started looking for homes in South County 16 years ago, they were sailing in familiar waters. Looking to move from South Kingstown, the two were searching for a home with bigger, better space in which to entertain, one of their favorite pastimes. They also wanted a home surrounded by ample grounds, for another of their cherished hobbies. "We both love to garden and the outdoors," explains Lynn, adding that planting ample flower and vegetable gardens were a priority.
Though the two weren't specifically looking for a historic home, the couple fell for a circa 1880 farmhouse on Narragansett's Sprague Pond. "We knew instantly," Lynn says. "I just loved everything about the house; how it's situated on the pond here, how it's designed, the crown molding, hardwood floors, big rooms…" he continues. And they weren't the only ones who had fallen under the home's spell. Lynn and Ron soon learned that the late J. Joseph Garrahy, who served as Govenor of the State of Rhode Island from 1977 to 1985, lived in the home with his family during his tenure leading the Ocean State. It's a part of the home's history that might explain some oddities, like the nine phone lines that were installed during his administration. "The wiring is still there in the basement. It looks like a small town operator's board from the 1940s," laughs Lynn. One of Garrahy's daughters gifted the couple with an extended history of the home, which they treasure.
Surrounded by six lush acres, it is easy to see why Lynn and Ron were enchanted by the property, though admittedly, creating the gardens of their dreams would take some work. But for the most part, the couple says the home wasn't in need of immediate renovation. Their philosophy was to live in the home for some time, see what spaces they used and identify which could be better adapted to their needs. They weren't intimidated by the idea of a construction zone; Lynn and Ron certainly wouldn't have been the first owners to drastically modify the home. "The house underwent a glorious expansion in 1930," describes Lynn. "The guy who owned it had not lost money in the crash of 1929 and he hired an architect to add a wing on each end and a second floor."
The first renovation was in the kitchen. "We liked the one we had, but we had ideas," says Lynn. The two turned to Frank Karpowicz Architects based in Wakefield to reinvent this critical component of the home. After taking the room down to the bare studs, builders got to work on Karpowicz's design which featured a large window to capture the view, cathedral ceilings, a trio of dishwashers, top of the line appliances including a refrigerator with glass doors and an island with seating for up to six. Greg Bressler of Picus Woodwrights in Shannock managed the construction of the project, and nearly every additional project there since the kitchen's completion. With a palpable reverence for historic homes but a keen eye for merging old spaces with modern conveniences, Greg carefully executed the kitchen plan in a way that proves classic and contemporary design don't haveto be mutually exclusive. "Part of our joy in working with Greg is his love for wood," adds Lynn. So when they were looking to completely renovate a pair of bathrooms in the home, they naturally turned to Picus Woodwrights. "There are wood floors in both bathrooms on the second floor and the surround of the guest bath is made of a wood called bubinga," says Lynn. Bubinga, an imported African hardwood, is best known for exquisite grain features. While wood isn't your typical bathroom material, it works in this unconventional space. "You feel like you have another of a level of trust and understanding with a client to be able to approach them with an idea like that," laughs Greg.
The master woodworker can also stake claim to other projects in the home, like a custom wet bar, and smaller projects, like replacing outdated columns. "Year one they pointed out the columns and said they were boring," he says. So when he spotted a pair of wine screws from a French wine press in an antique shop, he immediately thought of Lynn and Ron – and their shared love of wine. Today, the screws serve a structural function while adding an equally interesting and stunning decorative element. Their mantra, says Greg, was to in a way, make anything they added to or changed in the space, "look like it grew there."
"Everything there needs to harmonize with everything else because you're working within a historic palate and the palate of the existing structure. You decide how to honor that, and how it will work with the space," Greg philosophizes. For Lynn and Ron, he says, the two looked to create a modern and eclectic aesthetic in a way that made sense in a 130-year-old home. "[We] identified what are the components that tie a space you're working on with the remainder of the house, and where are the opportunities to depart from that. How will it work? And how much it is going to cost? [Lynn and Ron] have very well considered opinions … it's a really fun process especially with those guys. They're eager to be involved but also really receptive to what we have to say. Working collaboratively… gave me an opportunity to do some really cool stuff."
Another instrumental professional the couple relied on was Deborah Jones, a paint consultant with Adler's Hardware in Providence. "She listens carefully and then suggests possibilities, and we've been using a brand called C2 which has these rich colors," says Lynn. (One of C2's founders was Harry Adler himself.) Deborah counsulted on color choices for both of the new bathrooms, the master bedroom, the study, the second floor hallway and more. The living room, where Lynn says they spend the most time, is a warm shade Deborah brought to them called Roasted Tomato.
With a few key professionals by their side, Lynn and Ron continue to add another storied chapter to this home's lauded history book.